⬆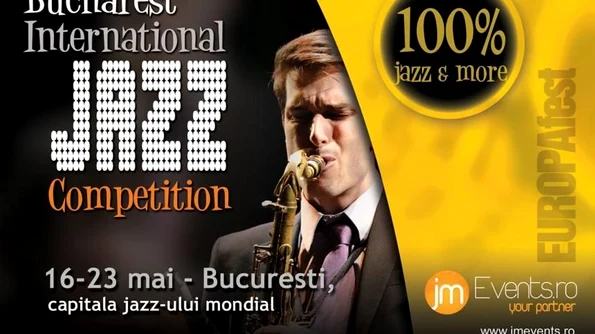 8 days of 100% jazz. EUROPAfest – Bucharest International Jazz Competition
Between the 16 and 23 of May the capital vibrates on jazz rhythms.
Bucharest International Jazz Competition, at its 9th edition reunites in the Semifinal 15 of the jazz bands of the moment from as many countries:Australia, Austria, Canada, South Korea, Estonia, France, Germany, Israel, Italy, Luxembourg, Poland, Russia, Spain, USA, UK.
Taking place under the EUROPAfest brand, Bucharest International Jazz Competition, ranked by BBC as one of the first 3 jazz contests from Europe, it has gained its place among famous jazz events known worldwide, being appreciated by both the public, the artists and the specialists.
Under the motto "100% jazz and more", the event invites the audience to unforgetable evenings of quality jazz, original rhythms, bold ideas and surprising combinations. A week dedicated to jazz, concerts, workshops and jam sessionsstarring artists from 4 continents, with different cultural backgrounds, who fight on the stage for the Grand Prize Winner. The public will discover the american jazz next to the european one, australian and south-korean. With pretigious events in the agenda, the participants will transform Bucharest into the capital of worldwide jazz.
Jazz means versatility and freedom through excelency, and EUROPAfest – Bucharest International JAZZ Competition promises a true explosion of colour and energy. The positive force generated by the jazz and the projects of the bands keep the hall concerts full every time. In 2015, the event will take place at Excelsior Theatre, Odeon Theatrebut in unconventional places like Ibis Caffetoo. More information about the artists, the agenda and tickets can be found on www.jazzcompetition.ro. Students have free entrance at the concerts, in the limit of the available seating.
If you are already in love with jazz, or just want to discover it, come to Bucharest International Jazz Competition, choose your favorite band, support them until the Final and enjoy the authentic shows and their cheerfulness.
Under the motto It's all about live quality music!, EUROPAfest, the only European festival reuniting 4 musical genres-jazz | blues | pop | classicpresents during 14 – 23 of May, over 300 artists from 45 countries. Except for Bucharest International Jazz Competition, the agenda also includes:Opening Concert – Bucharest | Sibiu, live concerts of jazz, blues, pop and classical music, Jeunesses International Music Competition Dinu Lipatti, master-classes &workshops, Caffe Festival Ibis, Festival's corner and the EUROPAfest Gala. The entire agenda and more information about the tickets can pe found on the website of the organizer, www.jmEvents.roCumpără acumor on the facebook page EUROPAfest.