⬆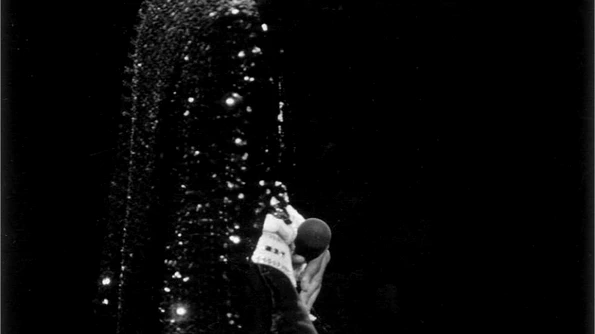 Michael Jackson – The Man In The Mirror
Who hasn't heard of Michael Jackson? If you haven't been living under a rock your entire existence, you have probably heard more than enough about Michael Jackson. But have you any notion of who he really is? Or what he has done for the African American community or music in general?
MJ – as he is known – was born in Gary, Indiana on August 29th, 1958. Ever since he was a small child, he loved dancing, performing and listening to the great "Godfather of Soul" James Brown. At the tender age of 5, after hard and long hours of work under his father's supervision (and even physical punishments), Michael and his older brothers did everything Brown did, except for being signed to a label. However, Michael was clearly the star of the group and their big break came after a great performance at the amateur night at The Apollo Theater in Harlem. After being signed to a relatively unknown music label in Gary – Steeltown Records – The Jackson 5-as they were known for their 5 members – finally signed a contract with Berry Gordy's ever-expanding empire of Motown Records.
Thanks to its staggering success, the family had enough financial resources to move in 1971 from its small and inadequate house for its eleven members to an impressive mansion in Encino, California. MJ went on to be considered a child prodigy who was able to belt out "Who's Loving You" better than its already established 20-year old writer and singer Smokey Robinson (listen to him do so here). This made Mark Anthony Neal, a professor of Black Popular Culture at Duke University's Department of African and African American Studies to declare that as the Jackson 5, Michael Jackson and his brothers "became a cutting-edge example of black crossover artists"[1]. He continued by saying that "You basically had five working-class black boys with Afros and bell bottoms, and they really didn't have to trade any of that stuff, in order to become mainstream stars".
Thus, in 1960s and 70s US, Jackson 5's music was like a breath of fresh air: it had no racial boundaries and they went beyond musical or looks-wise stereotypes. And this was an enormous feat for a family from the small town of Gary, Indiana; thus, they went on to embody the American Dream. Time and again, USA proved to be the place where everything can come true, where even those who some years before were racially segregated were able to fulfil their dreams. Therefore, Michael knew he could do more, he could leave his brothers behind and his abusive father as well as the restricting rules of Motown. MJ knew he could create amazing music which would influence a whole generation of performers and would change the way people looked at music and African Americans forever.
His first solo album at his new label Epic Records was Off the Wall. Michael teamed up with the famous producer and composer Quincy Jones and managed to bring to life an enduring style of music. Even now, the 10 tracks on the Off the Wall album sound fresh and up-to-date as if they were released yesterday. Stephen Thomas Erlewin from AllMusic thought of it as "the album that established him as an artist of astonishing talent and a bright star in his own right. This was a visionary album, a record that found a way to break disco wide open into a new world where the beat was undeniable".
However, his next album released in 1982 – Thriller which was originally called Starlight – became the best- selling album being credited with sales of 51 to 65 million copies worldwide. This way, Michael Jackson's music found global appeal. His sounds and lyrics were colour blind, he sang to the mind and soul, regardless of race, ethnicity, religion, nationality or political orientation – he became very famous in the Communist bloc, even though his music was naturally considered "American Imperialism." Thriller was the first video of an African American performer which entered the newly-created MTV (Music Television)'s heavy rotation. His label threatened that by refusing to play Michael's videos, they would pull out the videos of their other artists and thus, MTV was actually obliged to play his videos. Prince, Lionel Richie and every other artist with an African American background benefited from this move. It was this which brought "the forbidden music" of the African Americans, the music which almost never came into being, to the mainstream.
Also, his videos brought to new heights this art form. MJ's dance style and fashion sense are now iconic. Who wouldn't recognize somebody wearing a red leather jacket as a Thriller-inspired fashion style? Yeah, that's right, everybody would recognize it! So now, let us ponder: Why was it necessary for MTV to be obliged, to be cornered into playing MJ's videos? Or any of the other African American artists' videos and music? Music, sounds, painting, movies do not have a racial quality to them, they are just art forms designed to inspire, to bring happiness to those who listen/watch them, to conjure up our deepest thoughts about life and people around us.
In 1983, MJ also released what I believe is still the perfect song ever – Billie Jean. It cemented his international status as a pop icon and people started believing that the word "megastar" was invented especially for him. But what also made it famous was the dance style he debuted at the Motown 25th Anniversary Special – the Moonwalk (watch him perform it here). The Moonwalk creates the illusion that the dancer is being pulled backwards while attempting to walk forward. Thus, MJ was all the rage in the early 1980s! His moves, dance style, vocals and new sounds impressed everybody and transported them into a surreal world where everything was possible – even for 2 or 3 hours or as much as his concerts lasted.
Yet, his fame took its toll on him. The irony was that the more famous he became, the lonelier and more isolated he was starting to feel. As he was hailed as the first African American to be able to appeal to such large audiences worldwide - as his albums were selling in amazing numbers internationally and his fortune was going up, Michael developed a skin condition called Vitiligo. This caused his skin to gradually become lighter in tone making people wonder why he was not satisfied with his African American background which actually made his rise to stardom even more surprising. Yet, MJ did not reveal his condition until the 1990s when everybody was convinced that he was actually altering his skin colour, in order to fit more into the white paradigm of the US. Obviously, the allegations were not true, yet they created this aura of mystery around him which helped his label sell even more records. His BAD and Dangerous albums were released in 1987 and 1992 and became instant hits, yet they could not reach the fame that Thriller enjoyed.
On some tracks from these albums, Jackson had a different vocal approach: he sang them through clenched teeth – for instance Why You Wanna Trip On Me or Jam - which showcased his rage and disappointment in people's false opinions and expectations of him. Dangerous was also the first album which he produced on his own without Jones' help. In the 1990s, MJ was still the megastar of the 1980s, yet his personal experiences were also beginning to take their toll on his professional career. Trials, allegations of all kinds and drug abuse made him reluctant to be in the spotlight or even to be interviewed. And when he actually managed to be acquitted by a jury of his peers, the focus was less on his music that on his actions.
These hurtful experiences were poured into his last officially released album – Invincible (2001). Tracks such as "Unbreakable" or even the song which gave the name to the album created the idea of Jackson being powerful, that he managed to overcome his lowest part of his career and life:
Now I'm just wondering why you thinkthat you can get to me with anythingseems like you'd know by nowWhen and how I get downAnd with all that I've been through, I'm still around
Now you can't stop me even thought you thinkthat if you block me, you've done your thingand when you bury me underneath all your painI´m steady laughin', while surfacing. Michael Jackson - Unbreakable
Yet, while preparing for a new state of the art show entitled "This Is It", Jackson went into cardiac arrest and passed away without being able to perform even in one of the shows he was getting ready for. Worldwide, people of all ages, ethnicities, nationalities and so on organized public gatherings and sang his songs, remembering his extraordinary life. And I believe this is what Michael would have wanted – to be remembered as the one who brought people together, who enticed their hearts with soulful and also, politically aware lyrics and sounds. The one who brought magic in their life, who opened the door to a better world for everybody.
To quote MTV which at some point in its existence refused to airplay his videos: "MJ. His music will live forever."
[1] http://edition.cnn.com/2009/SHOWBIZ/Music/06/28/michael.jackson.black.community/