⬆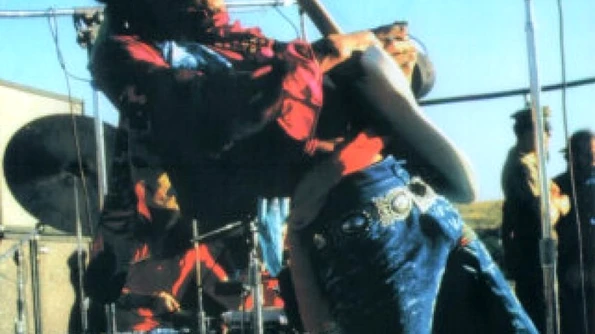 Jimi Hendrix – The Guitar God
The Rock and Roll Hall of Fame describes Jimi Hendrix as arguably the greatest instrumentalist in the history of rock music and Rolling Stone as the best guitarist of all time. However, who is Jimi Hendrix, you wonder? Who is this wonderful artist who, despite living for only 27 years, left behind a legacy that artists who live up to be 80 never achieve this? Simply put, he is James Marshall Hendrix born under the name Johnny Allen Hendrix on November 27th, 1942 at Seattle's King County Hospital.
Yet, when Chas Chandler, the Animals' bassist, signed him up to a label in London and he moved to the UK, his stage name became Jimi Hendrix with only an m, in order to distinguish himself from the other "Jimmmies." And he managed to do just that. Hendrix was different, eccentric, over-the-top, influential, innovative, and mysterious. Jimi would set his guitar on fire on stage and the same time, he was the one who – in Rolling Stone's George Warren's words - pioneered the use of the instrument as an electronic sound source. Players before him had experimented with feedback and distortion, but Hendrix turned those effects and others into a controlled, fluid vocabulary every bit as personal as the blues with which he began.
Jimi combined blues, psychedelic rock, hard rock, rock'n'roll, jazz, soul, folk and R'n'B into the soundtrack of a generation and many more to come. His elegant and sophisticated, yet raw sounds were reminiscent of the 1960s social upheaval of the American society. As an African American, Jimi could not detach himself from what was going on in the country he lived and felt compelled to write socially aware tunes such as "The Star Spangled Banner" (click on the title to listen to the song) and its electrifying performance at Woodstock in 1969:
Oh, say can you seeBy the dawns early lightWhat so proudly we hailedAt the twilights last gleaming?Who's broad striped and bright starsThrough the perilous fightO'er the ramparts we watchedWere so gallantly streaming?And the rocket's red glare!The bombs bursting in air!Gave proof through the nightThat our flag was still thereOh, say does that star spangled banner yet waveO'er the land of the freeAnd the home of the brave?
Jimi Hendrix – The Star Spangled Banner
Therefore, not only was Hendrix a guitar hero, but also an astute lyricist and an amazing vocalist with his exquisite baritone range. Even though it was very successful in the UK, his first album – Are You Experienced – became a hit during the Monterey International Pop Festival when Hendrix performed his electrifying rendition of The Troggs' tune entitled Wild Thing (click to listen). Hendrix was also a very prolific artist: despite touring and trying to lead a normal life, he managed to leave behind a great number of unreleased tunes. In his Electric Lady Studios in New York City, Hendrix experimented with every sound, button and chord on his guitar.
He was the one to innovate the use of stereophonic phasing in music recording and also, popularized the use of wah-wah pedal and created new sounds thanks to the guitar amplifier. Electric Ladyland – the most successful release and also, the final of his life – brought Hendrix legend status. His haunting cover of Bob Dylan's All Along the Wachtower (click to listen) is even today revered as one of his best musical performances. Hendrix's musical arrangement along with Dylan's lyrics created an unforgettable and unmistakable feeling and an amazing music piece.
"There must be some kind of way out of here, "Said the joker to the thief, "There's too much confusion, I can't get no relief.Business men – they drink my winePlowmen dig my earthNone will level on the wineNobody of it is worth."
Jimi Hendrix/Bob Dylan – All Along the Watchtower
Jimi mastered the art of making more than music. He was a trendsetter whose level nobody could reach, he was the voice of a generation in a time when people were still heavily influenced by racial prejudices, rather than real raw talent. Yet, he continued to raise the standards in music and to break the mold. However, the life on tour, the conflicts with his management and his own demons took their toll on Hendrix. He was experiencing a time of change, since he was working on an album entitled First Ray of the New Rising Sun just before his death and this give us a glance into his intricate music making and complicated inner world which makes his music and life unable to separate.
Purple Haze was in my brain, lately things don't seem the same, actin' funny but I don't know why'scuse me while I kiss the sky.Purple Haze all around, don't know if I'm coming up or down.Am I happy or in misery?Whatever it is, that girl put a spell on me.
Jimi Hendrix – Purple Haze (click to listen)
The very young musician died at the age of 27 on September 18th, 1970 with only four albums released to date. Yet, his place in the pantheon of guitarist was firmly established: he was the guitar god, a musical genius who challenged what people thought was "normal" in music when there should not be any rules of such. Music is freedom and that was what Jimi Hendrix taught us.
He effectively changed the way musicians and people perceived so much that he made Andy Aledort write in his book entitled Jimi Hendrix: A Step-by-Step Breakdown of his Guitar Styles and Techniques that "in rock guitar, there are but two eras—before Hendrix and after Hendrix". His unique way of singing, playing the guitar, performing and arranging music influenced the artists of today and they never forget to pay credit to him: Prince, George Clinton, blues legend Stevie Ray Vaughn, Ernie Isley of the Isley Brothers, Kirk Hammett from Metallica. As of today, his records are selling even more than during his lifetime and his posthumous acknowledgement as greater as ever.
His legend status is consolidated each day and his music is as fresh as ever, although it was created with more than 45 years ago. Now that is a real artist: although he is not physically in this world and therefore, unable to create more music or go on tours to remind us of him, his music is timeless and it lives, because he created it for the soul and mind, not for the charts.
Well, I stand up next to a mountainI chop it down with the edge of my handWell, I pick up all the pieces and make an islandMight even raise a little sand
'Cause I'm a voodoo childVoodoo child
Jimi Hendrix – Voodoo Child (click to listen)