⬆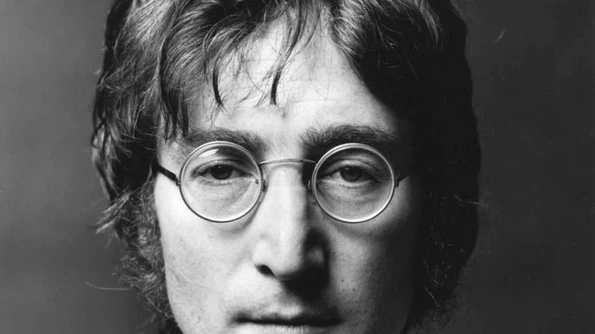 John Lennon and the Beatles
John Lennon is one of the most celebrated singers, songwriters and composers of the 20thcentury. Alongside Paul McCartney, Lennon created one of the most famous and enduringpartnerships and bands in pop music. However, his fame outdid the Beatles and he is remembered now as a pioneer, as a figure who fought for world peace and did his best to persuade the American political leadership to give up the involvement in the Vietnam War.
Yet, his life was not as glamorous as one may think of John Lennon. He was born and raised in Liverpool by his mother and aunt. His father was a merchant seaman of Irish descent who made him choose twice between him and his mother. Although John each time chose his father, when the time came to leave with him aboard the ships, the small child ran back to his mother. Therefore, his start in life was not one of the best and it was reflected later on in his art:in his music, lyrics and pacifism. As of September 1980, Lennon declared that:
<Part of me would like to be accepted by all facets of society and not be this loudmouthed lunatic poet/musician. But I cannot be what I am not ... I was the one who all the other boys' parents—including Paul's father—would say, 'Keep away from him'... The parents instinctively recognised I was a troublemaker, meaning I did not conform and I would influence their children, which I did. I did my best to disrupt every friend's home ... Partly out of envy that I didn't have this so-called home ... but I did... There were five women that were my family. Five strong, intelligent, beautiful women, five sisters. One happened to be my mother. [She] just couldn't deal with life. She was the youngest and she had a husband who ran away to sea and the war was on and she couldn't cope with me, and I ended up living with her elder sister. Now those women were fantastic ... And that was my first feminist education ... I would infiltrate the other boys minds. I could say, "Parents are not gods because I don't live with mine and, therefore, I know.">
At the tender age of 15, John Lennon created a band called the Quarrymen after the high school he attended - Quarry Bank. When the Quarrymen played their second performance, Lennon met Paul McCartney and that is how the most famous partnership in music history was formed. Although initially, there was hostility and misunderstanding from each side, eventually, McCartney and Lennon started to collaborate and what got out of their hands is the stuff legends are made of. Therefore, in the cold British autumn of 1956 the most famous rock'n'roll band was beginning to take shape.
14-year-old George Harrison joined the band and together with the group, he went to Hamburg, in order to perform a series of concerts which launched the Beatles into the music world. However, their time there meant also the first encounter with drugs and first overdose. It is widely acknowledged now that while in Germany, the group experimented with various substances, in order to keep them going after the long and overnight performances. While being there, they ousted Pete Best and took in Ringo Starr as drummer.
Yet, John Lennon stood out from his fellow bandmates thanks to his remarkable intelligence which was translated into his unmistakable signature his lyrics possessed. He was even nicknamed the "smart Beatle" for his "penetrating intelligence and a stinging wit which he brought both to the band's music and as self-presentation. But in such songs as "Strawberry Fields Forever, " "Norwegian Wood (This Bird Has Flown), " "Rain" and "In My Life, " he also marshaled gorgeous melodies to evoke a sophisticated, dreamlike world-weariness well beyond his years. Such work suggested not merely a profound musical and literary sensibility – a genius, in short — but a vision of life that was simultaneously reflective, utopian and poignantly realistic[1].Paul McCartney acknowledged in 1987 that "He was like our own little Elvis ... We all looked up to John. He was older and he was very much the leader; he was the quickest wit and the smartest".
In 1964 the Beatles appeared on the Ed Sullivan Show and every American with a TV set was able to experience the four British rock'n'roll stars right in their living rooms. This performance offered them the artistic breakthrough the Beatles needed:their status as superstars was solidly cemented and in 1965, at the Queen's Birthday Honours, they were appointed Members of the Order of the British Empire. The Beatles were at the pinnacle of their career, yet decided to stop touring, since those who attended their live performances were unable to hear the music, because of screaming fans.
This aspect of touring and also, Lennon's declaration to the Evening Standard that "Christianity will go. It will vanish and shrink ... We're more popular than Jesus now—I don't know which will go first, rock and roll or Christianity"contributed to their decision to stop touring. Although it had virtually no impact on their success in the British Isles, yet, when quoted by another magazine in the US, it caused a great uproar:resurgence of Ku Klux Klan activity, public burning of Beatles records, radio stations refusing to play the Beatles albums and death threats against John Lennon himself. After these events and Lennon's experiences with the LSD drug, he began to write intricately complex songs and melodies.
In 1967, the band released the landmark album entitled Sgt. Pepper's Lonely Hearts Club Band which was considered one of the first concept albums in the history of music. This cornerstone in musicology meant also the advent of the album era in the British culture. This mean that the main form of musical expression was the album with a certain number of songs which may or may not be connected lyrically or sonically. Sgt. Pepper's sold more than 30 million copies as of 2014 and was considered "culturally, historically, or aesthetically significant", in order to be offered a place into the US Library of Congress. Professor Kevin J Dettmar thought of the album as "the most important and influential rock and roll album ever recorded" and wrote this into the Oxford Encyclopedia of British Literature.
In the same year, the song "Strawberry Fields Forever" hit the charts and the critics decided that it was perhaps the best track ever released by the Beatles. It was also one of the most important psychedelic rock tracks in the history of music which paved the way for other experimental songs. Lennon easily detached himself from his fellow bandmates while he became more outspoken and gave more interviews on subjects he was intensely passionate about. He was very vocal against the American intervention in Vietnam and against fighting in general, thus becoming one of the most powerful and well-known figures of pacifism.
In March 1969, he married Yoko Ono and in September the same year, he left the Beatles. Paul McCartney did the same thing and the group disbanded. Regarding this, Lennon said that he, Harrison, and Starr "got fed up with being sidemen for Paul ... After Brian Epstein died, we collapsed. Paul took over and supposedly led us. But what is leading us when we went round in circles?"However, there were also voices which claimed that there were dissensions between the band members, because of Lennon's wife, Yoko Ono.
In 1970, he began his solo career with an album entitled John Lennon/Plastic Ono Band. The energies released after John and Yoko attended primal therapy sessions in Los Angeles were poured into this album which has been praised as one of the defining moments of rock. Music critic Greil Marcus concluded that "John's singing in the last verse of God may be the finest in all of rock." Yet, his landmark album and song was Imagine released in 1971. With a messiah-like attitude, Lennon belts out lyrics such as:
You may say I'm a dreamerBut I'm not the only oneI hope someday you will join usAnd the world will be as one
Imagine no possessionsI wonder if you canNo need for greed or hungerA brotherhood of man
Imagine all the peopleSharing all the world
Apart from his prolific career, Lennon was a very difficult person who pushed the envelope not only in music, but also in his personal life. He became the personification of civil disobedience and the Nixon Administration feared he might have become a powerful leader of the anti-Vietnam protesters and thus, took into consideration his deportation. Therefore, until 1976 when Lennon finally received his green card, he was involved in serious legal battles with the American state. Yet, all this took its toll on his personal life which resulted in a two-year separation from Yoko. Lennon labelled it as his "lost weekend", a period of time during which he released three albums: "Mind Games", "Lost Bridges" and "Rock'n'Roll."
In 1975 when he was reunited with Yoko, their only child, Sean Lennon was born and they decided to take time away from the spotlight to concentrate on their family. Yet, the year they chose to make their big comeback – 1980 – saw the fatal moment of John being shot to death four times by Mark David Chapman. This man saw the Beatles and Lennon as idols, yet decided to murder John, because he found that his lyrics did not fit his lifestyle and also because of his comment about the group being more famous than Jesus. Chapman pleaded guilty to second degree murder and received a sentence of 20-years-to-life. He was eligible for parole for the first time in 2000, yet has been denied parole eight times since that year. He was last refused in August 2014 and is expected to sign uk again for parole in August 2016.
His death brought about a great outpour of grief, sadness and the feeling that Lennon had been reduced to silence too early. His wife, Yoko Ono, asked that everybody who wanted to pray for John Lennon should be quiet for 10 minutes on December 14th, 1981. Millions of people around the globe responded to this request while over 225.000 gathered near the Central Park in New York, close to where the shooting took place on December 8th. At the same time, all the New York radio stations went off the air for a good 10 minutes. In John's native Liverpool, more than 30.000 people gathered to mourn his death.
John Lennon became one of the greatest figures in music and one of the most renowned peace activists. His witty and very different style of life and songwriting approach have forever changed the face of music and influenced a generation of performers. Lennon's political prowess can be under understood if we think that whenever talking about peace, people put up John's famous picture from the Imagine single.To their minds, this image is the very epitome of peace activism and harmony.
If someone thinks that love and peace is a cliche that must have been left behind in the Sixties, that's his problem. Love and peace are eternal.
John Lennon