⬆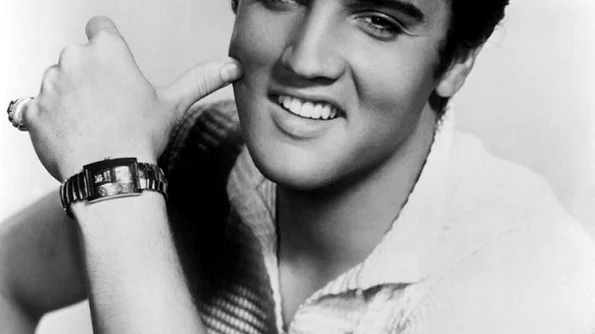 Elvis Presley – The King of Rock'n'Roll
On August 16th, we were all sadly informed via Facebook or any other media that there have passed 37 years since the death of Elvis Presley. Almost 40 years since the world last heard him sing and saw him dance. That's a lifetime, you think and indeed, you are right. Had he lived, Elvis would've been 79 and he most likely wouldn't have been able to dance anymore, but at least, he would've been around to tell his legendary story. Or maybe it wouldn't have been so legendary, since we would've had him around for so many time, we may have forgotten the impact he had on the world. And that's what made him so mysterious and legendary:the fact that he died so young only ignited people's imagination and created his posthumous myth.
"...the image is one thing and the human being is another...it's very hard to live up to an image." Elvis Presley in 1972
Elvis Aaron Presley was born on January 8th, 1935 in Tupelo, Mississippi and in 1948, he moved with his family to Memphis, Tennessee. His identical twin brother Jesse Garon was stillborn and so, Elvis was Vernon's and Gladys' only child. This way, he managed to form very close relationship with his parents and especially with his mother. They went to the Pentecostal Church Assembly of God, where he found his initial music influences.
Also, in Memphis, Elvis was exposed to all kinds of music genres and especially the African American ones such as R'n'B, soul, blues or gospel sung by well-known artist signed at the STAX Records label such as Aretha Franklin, Booker T and the MG's, Otis Redding or the composer Isaac Hayes. Therefore, Presley grew up listening to some of the best American music ever created and managed thus to blend into his own personal style an array of sounds and themes.
Yet, while in school Elvis was not appreciated for his singing abilities and was criticized by his music teachers and even placed fifth at a song contest. He had never attended formal music training or known how to read music, however, afterhe entered Humes's Annual Minstrel show in April 1953, Elvis found fame at a local level. In 1954, he went to the Sun Records' offices, in order to record songs for his mother, however, his real motive was to be discovered by the label and to be offered a contract.
"I wasn't popular in school ... I failed music—only thing I ever failed. And then they entered me in this talent show ... when I came onstage I heard people kind of rumbling and whispering and so forth, 'cause nobody knew I even sang. It was amazing how popular I became after that."
After some trials and tribulations, Elvis Presley managed to get his contract and impressed the Sun's bosses with his rendition of the bluegrass tune "Blue Moon of Kentucky" originally recorded by Bill Monroe. While performing at a venue, Elvis met Colonel Tom Parker, the man who would become a very influential figure in his life. At the time, Parker was one of the best promoters in music business and thus, a controversial, but successful partnership began.
His big break came when he was invited to sing at the Ed Sullivan show for which he received almost 50 000 $, an enormous sum at the time, but since the rival Steve Allen Show took up all the viewers, CBS had to whatever it took to preserve its audience. Presley performed Heartbreak Hotel and Hound Dog, but was shot only from the waist up, since it was considered too sexual and daring for a Sunday TV show and was not in accordance with the mores of the time.
Therefore, in 1956, Elvis Presley became an international super star. He was famous across the world for his talent, good looks, sensuality, charisma, and good humor. People flocked to see him whenever he was on tour: women wanted to be with him and men wished to be like him. His music reached to people of all ages, nationalities and ethnicities and thus, he found global appeal.
Yet, in 1958 he was enlisted in the Army - which was treated almost as a national event - only to find out soon after that his mother was gravely ill with hepatitis and he had to return home to find out that his mother died of heart failure when she was only 46. If before this, he believed that going into the Army would ruin his career, his mother's death felt like would take over his life, since he enjoyed a very close relationship with her. Elvis went back and was stationed in Germany where he was exposed to amphetamines which he started to take regularly and also, karate which he would later incorporate into his live shows.
Moreover, in Germany he met the love of his life, Priscilla Beaulieu who was only 14 at the time. After almost 8 year and numerous arguments with her family, they managed to finally get married and together had only one daughter, Lisa Marie Presley. They would break up eventually in 1973, since Elvis was constantly on tour and seemingly endlessly involved in affairs with his female film co-stars. Yet, it was Priscilla who thought about turning Elvis's house, Graceland, into a museum for public viewing, in order to regain everything it lost for the upkeep of the estate, since the artist's death.
Elvis came back to the US in 1960 and it was like he never left: his fans flocked to see him in every station where his train to Tennessee stopped. In the 1960s, Colonel Parker coerced him into making a great number of movies which were, however, without substance and Elvis felt disappointed and decided to find more challenging roles. Yet, the two more dramatic movies he starred in were a flop at the box office and therefore, made him go back to the bubble gum, no-brainer roles in musical comedies which brought a fortune to its producers making one of them declare that "A Presley picture is the only sure thing in Hollywood."Also, those roles and their accompanying soundtracks managed to transform Elvis into a"joke by serious music lovers and a has-been to all but his most loyal fans".
However, in June 1968, Elvis recorded Elvis: The '68 Comeback Special which virtually put him back on the map, since he was allowed to choose what he would sing or say unlike his movies. Elvis would say that the comeback was "the greatest thing I've ever done in my life. I give you my word I will never sing a song I don't believe in". Inspired by this, Elvis would go on to release his first non-soundtrack album in almost a decade which was acclaimed by both music lovers and critics, From Elvis in Memphis. The tunes - such as Suspicious Minds - on this album would resemble very much the sounds he heard growing up on the streets of Memphis which represented his true music style: country, blues, R'n'B, gospel and soul. Also, in 1969, the song If I Can Dream went to the top of the charts, even if it was unlike Presley's previous recordings. It was a spiritual song with soulful lyrics:
There must be lights burning brighter somewhereGot to be birds flying higher in a sky more blueIf I can dream of a better landWhere all my brothers walk hand in hand
Deep in my heart there's a tremblin' questionStill I am sure that the answerAnswer's gonna come somehowOut there in the dark there's a beckoning candle
And while I can think, while I can talk, while I can standWhile I can walk, while I can dreamOh please let my dream come true right nowLet it come true right now
Elvis Presley received a 1 million $ deal to play at the International Hotel in Las Vegas in February and August which made his live shows a total hit with the public. Newsweekeven commented that "there are several unbelievable things about Elvis, but the most incredible is his staying power in a world where meteoric careers fade like shooting stars."Moreover, Rolling Stonecalled Presley "supernatural, his own resurrection."
Yet, his career and break-up with Priscilla took its toll on him. Elvis never recuperated after his divorce which caused him episodes of paranoia and drug overdose. However, Presley would try to get his drugs on a prescription, since he felt that this way, he would not be compared to the street junkies. Elvis' situation made journalist Tony Scherman write that by early 1977, "Presley had become a grotesque caricature of his sleek, energetic former self. Hugely overweight, his mind dulled by the pharmacopoeia he daily ingested, he was barely able to pull himself through his abbreviated concerts."
On August 16th, 1977, he was discovered on the bathroom floor by his girlfriend Ginger Alden. The ambulance rushed in only to pronounce the King dead after several attempts at resuscitating him. People gathered outside Graceland to mourn him while the White House issued a statement which deplored the tragic loss of the one who "permanently changed the face of American popular culture".
Elvis Presley immediately became an important figure in the American culture not only for his musical legacy, but also for his disregard of segregation laws of the South. Presley never lost an occasion to showcase his respect and admiration for the African Americans and also, to give credit to those who inspired him such as Arthur Crudup. However, he was accused of being a racist, since someone claimed in 1957 to have heard him say the phrase "the only thing Negroes can do for me is buy my records and shine my shoes".Although many people, including African Americans, defended him, the episode would be later re-used against him. He would also be remembered as a sex symbol of the 1960s with some claiming that he was "the man who brought overt blatant vulgar sexual frenzy to the popular arts in America"as well as "the master of the sexual simile, treating his guitar as both phallus and girl".
Elvis is still revered as the King today and many people take part in a candlelight ceremony each year on August 16thwhen they mourn his death and remember his extraordinaire life. He is, after all, the embodiment of the American dream. A poor teenager who seemed to have no talent for anything, who received only criticism for his singing, became one of the most loved and adored figures of the American music.